Let us start this topic with 3 reasons why you have to do SEO
From an advertising point of view, the biggest difference between SEO and other advertising method is that there are no net media spend, no media fee in the entire advertising behavior. If you think of Google or other search engines as a big advertising platform, then SEO does not need to pay any fees to this platform.
In other words, all you have to do is to pay the SEO service fee to your SEO staff, like you don't pay for the meal but just the tips to the server. Compared with some other advertising platforms, it takes hundreds of thousands of dollars in exchange for tens of thousands of impressions. SEO ignores media advertising fees, this form of advertising is obviously more economical: SEO usually takes a few months for the same money you spend on other advertising platforms.
The search volume of Google 's search engine alone can reach to 3,500,000,000 per day. And Google's search exposure is unique and very accurate. Therefore, smart businessmen must understand that they cannot pick up sesame seeds and lose watermelon, and they are particular about the exposure of thousands.
Many people use WeChat to advertise since they think it's accurate, it's the main communication app of Chinese, then if they aimed to have Chinese to be their audience, then all Chinese will see your ads. But if this is the logic, then China should be a paradise for all businessmen.
There is a simple fact that all advertisers know: Banner ads have almost the lowest conversion rate in all forms of advertising. For example, roadside billboards, fixed banners on the site, or WeChat banners, a 0.05% conversion rate is already a good conversion rate for banner ads.
For search advertising, we called it "what you search is what you think". People who want to buy a house will search for the house before they buy, your ads will only be shown to those people in need. SEO will not only saves you money but also greatly improves the conversion rate. Therefore, the conversion rate of search is usually 25 times more than display banner ads, but the cost is much less.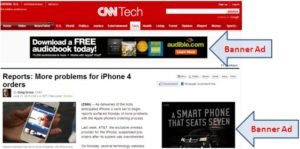 "There are differences between SEO and SEO"
If you have your own website, your mailbox is likely to have received such email: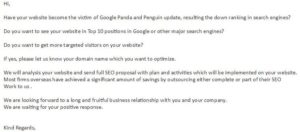 A careful inspection of email, you will find that most of these emails come from India. This evidence not only shows that the Indians have good English, but also that their email marketing is good. Changing the email name to a human name, and not attaching any image will have a lower chance of being directly thrown into the trash by a mail company like Outlook.
Then is India's SEO service so magical, you can only spend a few hundred for them to take you to the top of the search result page? If this is the case, then Indian companies can probably dominate the world. Fortunately, many customers who realized they need to do SEO do not meet this kind of situation. But two situations often occur:
I can do SEO myself or I have friends who can do SEO

The company who made my website will do SEO for me for free
If you belong to the above two situations, I suggest you continued to read this article, belief or not, your business can be better.
Let's talk about the first situation, for those self-study SEO beginners, we suggest Moz and Search Engine Land. There are new articles and discussions every day, learn those materials selectively. In addition, build a few more sites as administrators to practice your own tricks, because the practice shows real knowledge. 
The Google algorithm changes a little every three days, and a big change in three months, so that SEO is difficult to have any general knowledge, any material can be outdated, studying some outdated materials can sometimes harm your website.
SEO is actually not too difficult, but you need to constantly refresh yourself to understand the most updated information. Spend 2-3 hours of learning new information every day, update and test your site in real-time, and build your resource library. I believe that one day you will be an SEO expert. Of course, if your friends want to do it well, there is no shortcut, we all have to spend a lot of time on it.
Let 's talk about the second one. Most people who provide SEO services may provide you with a detailed list of services, which advertises various things they want to do for you. And the most listed things of which are redundant or even harmful. For example, you go to a dealership to change a tire, it is a matter of changing the tire itself, but the list can be:
Jack up the car

Use a wrench to turn the nut counterclockwise 10 times

Remove the tire

Load a new tire

Use a wrench to turn the nut 10 clockwise

Put the car down and put the jacks away
This is the case for some SEO services, do a site optimization to list all the small things that have been done. And then, fortunately, pay the hard work when the results are not good. Furthermore, SEO is a persevering project, monthly, weekly, or even daily project, not a one-time project, so there is really no way to do it for you for free. If a programmer or designer who builds a website says yes, they can do it free for you. Then I suggest that you still go and reply to the Indian emails mentioned above, maybe they can still be useful comparing with this situation.
(A typical keyword daily floating chart)
Most companies (including a well-known local Western yellow page information provider) provide 80% of the SEO business for the following two parts:
meta tag optimization

Inner chain optimization
Well, if the above has no effect, if they blame your website for not doing well, do you recognize it?
What is the difficulty of  SEO?
Website SEO optimization is the simplest part, the SEO that you can complete by editing your website is not called SEO, only SEO foreplay. So the workload like meta tags is usually less than 10%.
In other words, the remaining 90% of the money and time will be spent on optimization outside the station. The biggest difference between SEO beginner and expert is not how much SEO books and materials they read, but how many resources are available on their "bank". Therefore, the SEO gap is actually a gap in resources, and resources are accumulated over time. 
There is a good analogy: doing SEO means raising chickens and selling eggs. Just as only carefully grown chickens can produce high-quality eggs, only a person who knows the goods can see the unique value of this egg.
For a long time, many people doing SEO may just sell a message with unequal information, which has damaged the reputation of SEO. In fact, SEO is to cultivate and trade resources, relying on unique network resources to use the search engine to take your business to a new level.