WeChat has almost invaded most Chinese daily life, you can use WeChat almost anywhere in the world, not only as a communication tool but also as a payment gateway. As its functionality and power gradually expanded, some foreigners started to use WeChat as well. Think about it, 10 years ago, the Chinese were still struggling with QQ and were still thinking about which mobile plan to use, and now, mobile data changes everything, people rarely using text messages these days. 
Since its huge functionality, people become more and more reliant on it, especially in the Chinese community. We can say that WeChat is a revolution in Chinese society. From social software to a business tool, making WeChat a more diversified platform and more business possibilities. 
For business, WeChat is a huge pool with countless business opportunities and potential customers. Especially in 2016, when the WeChat mini program was launched. This was also a great opportunity for those entrepreneurs. Every time WeChat enlarges, whether its WeChat ads or public account launched, it will always be a big gain for those businesses who are the first to test the new launch product.
What is the WeChat mini program?
The WeChat mini-programs are sub-applications or mini-applications built within the WeChat platform. Mini-program enables us to provide advanced features to WeChat users including e-commerce, games, delivery platform, offline connection, and geolocation, etc. 
WeChat users can access mini-program instantly, open and use the mini-program without downloading them, in this way to provide a light and smooth user experience. 
Allen Zhang, the WeChat founder said "The mini-program is an application that can be used without downloading and installing, it realizes the dream that the application is within reach. The user can open the application by scanning or searching. It also embodies the concept of running away after use, users do not need to care about how many applications they downloaded. mini-programs will be ubiquitous and available at any time, but there is no need to install and uninstall." (Translated)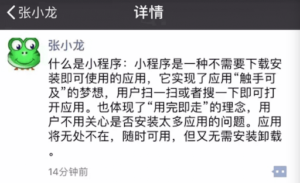 In this way, we can tell that the mini-program is undoubtedly attractive to all businesses who are interested in the Chinese market. However, whether your product or services are suitable for WeChat mini-programs is still a question. Business needs to think and analyze whether their products or services fit mini-program. Not many industries are suitable for the WeChat mini-program, but on the other hand, most products and services are suitable for it. 
Here are some examples:
Games: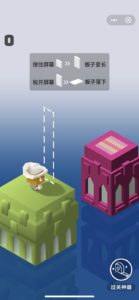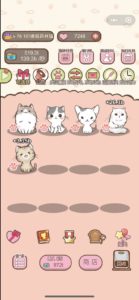 Online Order: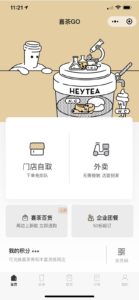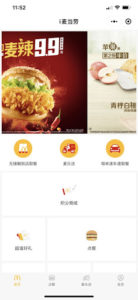 E-commerce: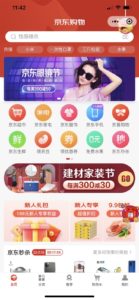 Survey: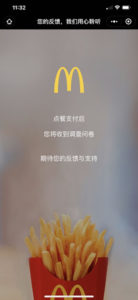 Video: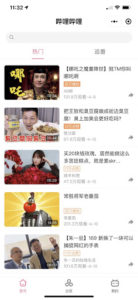 Tesla: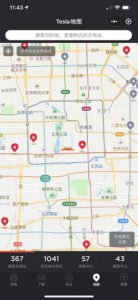 Why is the WeChat mini-program a good opportunity for most businesses?
Mobile App High Cost
In the past few years, the rapid rise of app development has also driven the increasing cost of app operation in the industry, those who have done app market operations should notice this fact in recent years. 
Set aside with the part of the cost of making APPs in the early stage, the later app operations, including traffic costs are a large amount of spend. According to the data, we can notice that the CPA (Cost Per Action) of some APPs can reach more than $500. So for most businesses, there is not much budget for dedicated traffic and app operations. 
But in fact, the traffic of an app is the key to survival. According to incomplete statistics, among the newly launched APPs each year, an average of more than 50% of the APPs cannot be continued due to traffic shortage.
Gain More User Time 
Nowadays, competition is no longer limited to similar products, all industries are competing for the user's time. Many APPs are downloaded to users' devices, but they are not used frequently or not even opened. At this point, WeChat has an absolute advantage, an advantage that WeChat users spend more than 5 hours a day on average in WeChat. 
Based on the above two points, for a start-up business to get more traffic and attention, WeChat is definitely a big tree to rely on, and this is why the WeChat mini-program launched.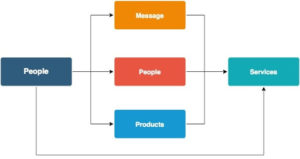 After so many years, from the birth of the PC Internet to the transformation to the mobile Internet, the business model has been stable. Four sections: people and messages, people and people, people and products, people and services. The WeChat mini-program is a mini-APPs that directly connects people and services, where the future trend will certainly be the direct connection between people and services.
Suitable Business For WeChat Mini-Programs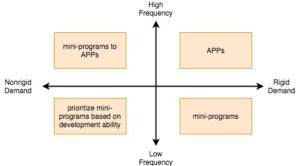 The WeChat mini-program encourages service industries since its original idea is to make people connect with services more efficiently. So if your products or services is low frequency or even medium frequency in demand, then it plays a very important role in consumer life, then you can definitely try the mini-program.
In other words, if your industry provides services more frequently, and there are certain requirements for user interface experience, then you should still focus on independent APPs.
Considers Before Entering The Mini-Program
Distinguish Independent APPs
For start-up businesses, before built an APP, they all need to consider whether the WeChat mini-program is feasible for their business and make a cost-effective investment income. 
For those companies that have already developed APPs, whether the bonus option of mini-program should be developed needs to be considered since the development of mini-program will absolutely affect the traffic of APP. Develop the same mini-program as APP, no matter which side of traffic wins it will all cause unnecessary traffic loss. Therefore, we suggest that businesses have existing APPs should continuously operate their APPs, and the WeChat mini-program can be used as an additional function. But you must pay attention to maintaining the information consistency, and give the user the choice to make their final decision of which to use. Finally, from the data and feedback to analyze which platform to use or which platform to put more attention.
Businesses can use WeChat's mini-programs as the medium for the initial test out of their product functions, but ultimately based on the user's choice. Of course, the specific situation should be compared based on your own investor income and customer acquisition cost, and find out the way that suits your business the best.
Account Disable Crisis
As the rules and policies more complete, the restrictions of the rules and regulations have gradually increased. The mini-program will also face the account disabled due to the violation of certain regulations. Therefore, if you rely on WeChat Mini Programs, you should always keep a clear head and keep in mind not to violate any of the relevant policies.
Cost Per Customer
Since people all download a lots of apps into their devices, it is a challenge for industries to increase the rate for users to open their developed APPs, but it is also an aspect worth spending to increase the rate. 
For the WeChat mini-program, there is no need to download and install the program. The way to get it can be added directly through search or scan in the WeChat, but the problem is how to let users know your mini-program name and then do the next action to open it. So for a new brand to enter the mini-program, the early promotion cost is your inevitable cost of acquiring customers. 
On the other hand, after the user finishes their first time of open the mini-program, the question is how to enhance your sense of presence among your users and also to maintain a google interaction with users. Otherwise, under WeChat 's numerous self-functions, even if everyone spends an average of 5 hours a day on WeChat, a large number of messages, moments, voice chat, and numerous third-party programs have already occupied most of the users' time. It takes a lot of effort to enhance the presence and maintenance of customers.
Suitable Business
In summary, any service that may be forgotten within three times a year, there is no need to waste money to develop an independent APP, try out the WeChat mini-program, it will save you a lot of money. 
General industries that are suitable for WeChat mini-program:
Human Resource

Second-Hand Buying and Selling

Tourism

Ticketing

Medical

Etc
The above industries are currently the most suitable industries for entering the WeChat mini-program, but the saturation of WeChat mini-program market will be quiet full after five years. So, even it is a good start now, we must always be alert to stay in place. 
For content-based services, users who have acquired from WeChat mini-program can gradually transfer to their own APP, which is a good strategy to the maintenance of their own customers. 
For the Chinese market of WeChat, the presence of large brands and small businesses has promoted a mutually beneficial balance model. For start-up businesses and small businesses, they also need to go through a period of suffering at the beginning. It is necessary to consider your business's own overall development trend and direction, consider the service itself, and based on the characteristics of the customer group, you have to analyze what is the most suitable channel for your products or services. 
The WeChat system has gradually matured on the road to perfection. The investment of mini-programs is a good start, but all businesses need a long-term business goal. Control the start and adjust it in the process to get close to your aim goals.